Anna Farrell is an FBI Special Agent and a woman from Barry Frost's past.
She appears in "He Ain't Heavy, He's My Brother" as the lead investigator for the FBI on a bank robbery in Boston. She cooperates with the Boston Police Department as they investigate the homicide that took place during the robbery. Because of a recent robbery at Cambridge that the detectives messed up, she lets only select officers into the scene, including Dr. Maura Isles, and detectives Vince Korsak and Jane Rizzoli. She and Frost exchange hostile glances and words which does not go by unnoticed by Frost's colleagues.
Later, Jane and Frost find another dead body in the getaway van that Agent Farrell was surveilling. She and Jane also talk to the first victim's widow. Jane handles the interrogation quite well, as usual, with tactful warmth, which Farrell admits to not being good at as she gets onto the widow with the details too strong. She expresses admiration for the way Jane handled the widow. Later, when Jane is taken off the case when her brother, Tommy, becomes a suspect, Anna gives Jane two minutes to talk to her brother before his interrogation.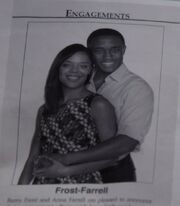 Korsak and Jane later find out that Anna and Barry were previously engaged. Frost tells Jane that she "married the job" instead of him, causing the hostile break-up.
After both their cases were closed, Jane convinces Frost to talk to her. Sadly, their conversation is never shown on screen.