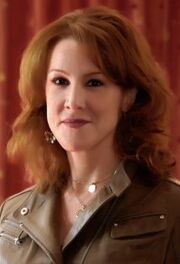 Janet Tamaro
is an American television writer and producer. She is the series creator, executive producer, and showrunner of the show,
Rizzoli & Isles
.
Janet was a television correspondent and an author before becoming a screenwriter in 2000. Tamaro began her career as an on-camera television correspondent. She worked for ABC NEWSOne, Inside Edition, and The Travel Channel as a correspondent and host. Tamaro is the author of the book, So That's What They're For!: Breastfeeding Basics, originally published in 1998.
Tamaro has written for many television series including Law & Order: Special Victims Unit, Line of Fire, CSI: NY, Lost, Bones, Sleeper Cell and Trauma. Tamaro worked as a freelance writer for the first season of Lost in 2004. Tamaro and the Lost writing staff won the Writers Guild of America (WGA) Award for Best Dramatic Series at the February 2006 ceremony for their work on the first and second seasons. Tamaro was also nominated for an Emmy Award for her work on Sleeper Cell.
In 2009, Janet penned the pilot's script for the show, under the original title, Rizzoli, and was later green-lighted and renamed to Rizzoli & Isles by TNT.
Ad blocker interference detected!
Wikia is a free-to-use site that makes money from advertising. We have a modified experience for viewers using ad blockers

Wikia is not accessible if you've made further modifications. Remove the custom ad blocker rule(s) and the page will load as expected.